CBD has been growing in popularity over the past couple of years. This can be attributed to the various health benefits that seem to keep cropping up with every study being carried out. Its popularity is still and so is the influx of new customers. New customers also mean that there are more products than ever in the CBD market. As a new customer or even someone who has been around for a while, all the jargon can often get very confusing. We are here to help you clear through the clutter. Especially when it comes to broad-spectrum vs full-spectrum CBD.
You would have seen this term at some point. They do tend to show up on CBD products that line the shelves or even when you shop online.
So, what do these terms imply? What are the differences between the products that fall in this category? Is one better than the other? We will be answering this and a lot more through this guide.
What Is Broad Spectrum CBD?
Whenever a bottle of tincture or gummy reads broad-spectrum CBD. it implies that it has all the derivatives that come from the hemp plant barring THC.
This is a pretty recent development in the world of CBD extracts, so there is always a chance that you will find variations across the product line spectrum. Depending on the extraction process deployed it is often possible that you will find that certain vital cannabinoids are missing from the end product.
Other times, companies use synthetic variants and label them as broad-spectrum CBD. This is what happens when there is a lack of FDA regulation (more on that later).
So, whenever you decide to make a purchase it is essential you look at the brand in question and also third-party lab results to ensure that you are receiving a product that has the full range of cannabinoids which will in turn help with creating the famous synergetic entourage effect.
What Is Full Spectrum CBD?
Full-spectrum CBD products have all of the cannabinoids that are associated with the hemp plants. This means that everything including THC, terpenes, and fatty acids, all of them make their way into the final product. Full-spectrum is also referred to as a full or whole plant extract.
The whole plant goes through a cannabinoid extraction and filtration process but none of the compounds or cannabinoids are removed. What often throws people off is the inclusion of THC but this amount is not enough to get you high. The issue, however, is that there is a possibility that it might show up on a swab test. So, if you think you can be subjected to a drug test, avoid these products.
Full-spectrum products are a lot more effective in delivering the healing properties associated with hemp to your body. Individual compounds like terpenes are known to have their own effects that can often go missing when the chemical composition of the product is changed.
CBD Isolates
Even though the major focus of this guide is to help you differentiate between full-spectrum and broad-spectrum CBD, it is important that you understand that there is a third product available in the market which is CBD isolate. These are products that contain none of the other minor cannabinoids. Terpenes or acids and instead, they are just CBD in its most pure form.
Broad Spectrum vs Full Spectrum CBD: What Is the Difference?
The biggest difference between full-spectrum and broad-spectrum CBD is quite simply the chemical compound content found in all of the products.
Full-spectrum consists of all the cannabinoids and compounds found in the hemp plant. Broad-spectrum also contains all the cannabinoids and compounds except THC.
Broad Spectrum vs Full Spectrum CBD
Broad Spectrum CBD
Full Spectrum CBD
CBC
CBD
CBC
CBD
CBG
CBN
CBG
CBN
THCa
THCv
THC
THCa
Flavonoids
Terpenes
THCv
Flavonoids & Terpenes
What You Need to Know Before Buying a CBD Product
Before I move on to the next part of this guide, it is important that you do take care of one thing. That is to always ensure that you go through a comprehensive check before you buy a CBD product.
The products we are about to feature on this list have;
Been tested by ISO 17025-compliant third-party laboratories
Created using Hemp Grown right here in the USA
Have a maximum of 0.3% THC
Contain no pesticides, heavy metals, and molds as per the latest third-party test.
CBD is not FDA regulated which means that the onus lies on you as the customer to pick the right product. We have thus compiled a list of the best full-spectrum and broad-spectrum products to help you get started.
Full Spectrum CBD Products vs Broad Spectrum CBD Products: What Should I Choose?
Well, if you are looking for a wellness supplement but do not even want trace amounts of THC then broad-spectrum CBD is the way to go. If you are fine with THC and want to extract the maximum benefits from your CBD product then full-spectrum is the better option.
Best Full Spectrum CBD Products
Lazarus Naturals – CBD Softgels
When it comes to starting out in the world of CBD wellness, your best bet is with the help of Lazarus Naturals. Their product lineup is top-notch and with the help of the whole-plant, full-spectrum CBD oil plus Flaxseed oil, d-Limonene, Myrcene, naturally derived β-Caryophyllene you are bound to feel the effects of full-spectrum hemp.
Sunny Skies CBD – Full-Spectrum CBD Gummies

These full-spectrum gummies are a tasty and effective way to get your daily dose of CBD. Sunny Skies provide high-quality products by ensuring that they process their own extracts and control the whole process from beginning to end. All their products come with a third-party test, thus ensuring that you are getting a top-notch product.
Best Broad Spectrum CBD Products
Bolt CBD – Gummy Bag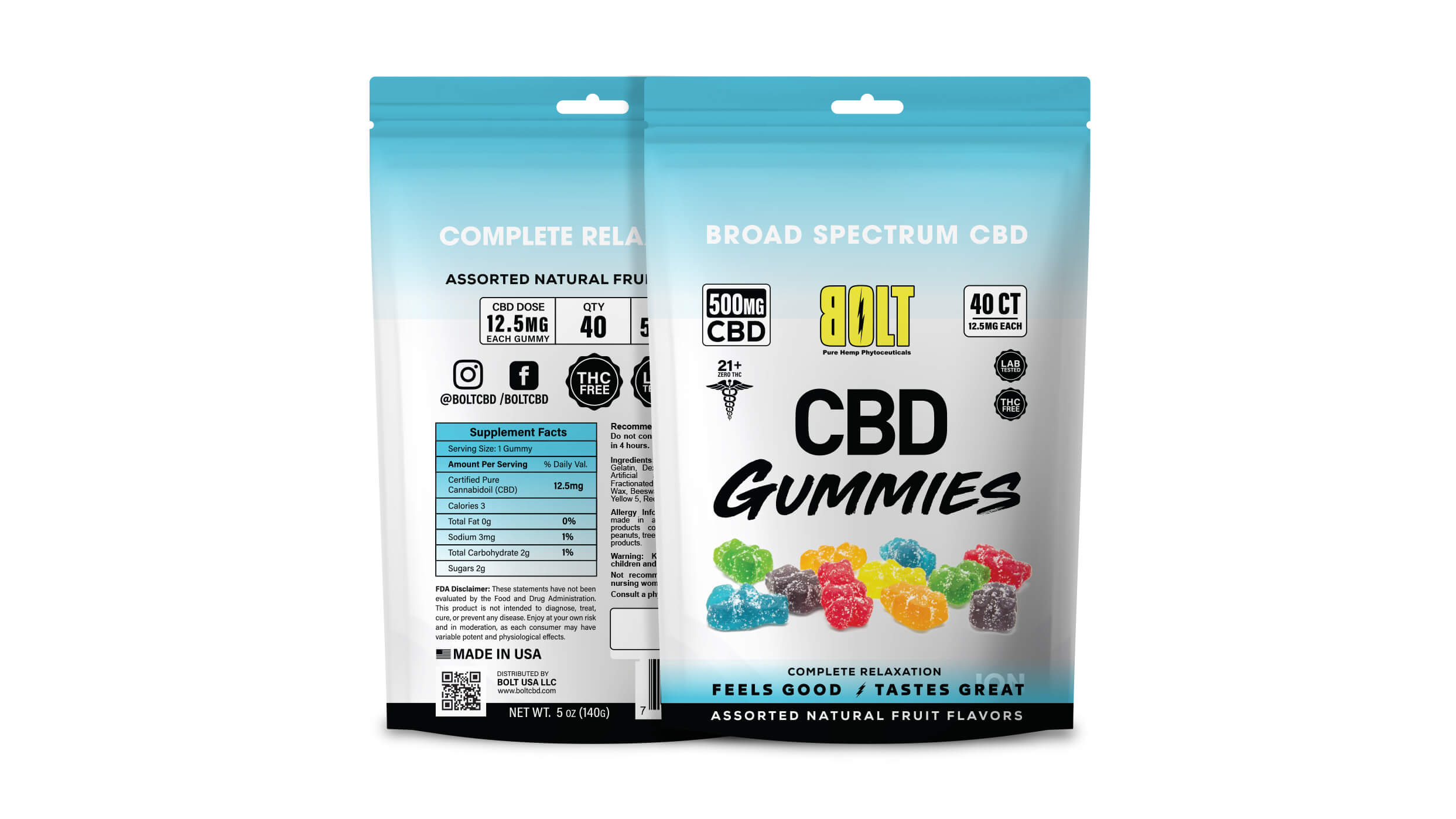 If calmness is what you are searching for then look no further than Bolt CBD Gummy Bag. Made with potent broad-spectrum CBD formulations, you are bound to feel complete relaxation with the help of just one gummy. With Bolt CBD gummies, you get an affordable deal on delicious gummies infused with organic CBD and natural fruit flavors. You can count on premium quality CBD and potent effects with every bite.
Wyld CBD – Elderberry Gummies

It is pretty tough to come up with a CBD list and then feature a Wyld CBD product. These elderberry gummies are perfect for someone who is having trouble sleeping. Each CBD Gummy contains a dose of 25mg CBD + 5mg CBN, making it the perfect formula for a good night's sleep. Wyld CBD are also great as they too provide a COA with every product. Ideal to put your mind to rest about exactly what you are having.